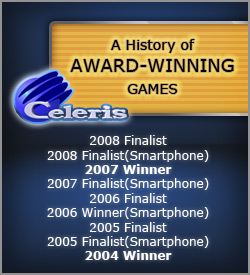 Our Games
Online Games Developer for Personal & Mobile Devices
Celeris creates games with realistic 3D physics, multiplayer online play for mobile and home computers. Online pool games helped to define this emerging games company. Best known for the award winning online pool game, Virtual Pool, we have years of experience developing multiplayer 3D games that provide a fun and immersive game experience. Our physics engine is fine-tuned to allow realistic gameplay and maximum fun. Proprietary camera replay and recording systems give players the ability to see their game from every angle! We empower our players with the ability to connect online for tournaments, ladders, individual games and more.

Celeris creates games for mobile and home computer platforms. We have also gained some attention from top reviewers and critics. Our games have won over serious gamers the world over. We are proud to have fostered a competitive player community and we continually strive to make our games better.

Our future game releases promise to take online gaming to another level of interactivity. Look for exciting games from us, coming soon!