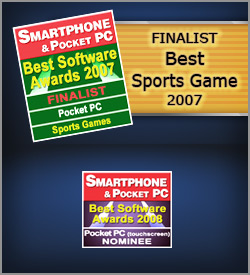 Our Games
Celeris Games, In the News
Celeris creates games for mobile and home computer platforms. We have gained attention from some of the top reviewers and critics.



POVPool Interview About Virtual Pool 4

There is video interview with Steve Chaplin about Virtual Pool 4 where he discusses features and some cool clips of in game play. There is also an interview about Steve's history.

Click to watch video interview

Click to read article
Leading iPhone Blog Review
"
Top of the AppStore chart this week is
Virtual Pool Mobile
...
I must say, I was pleasantly surprised, the controls feel intuitive and accurate. This accuracy combined with a simple menu system makes for easy and refreshing gameplay.
"

Click to read article
GameSpot Review.
" Better graphics, better ball physics, better online support, better single-player action ...
Bottom line: You can't find a pool sim that looks and plays as much like the real thing as
Virtual Pool 3 [DL]
does. "

Click to view article
Softpedia Review
" Virtual Pool Mobile
uses the iPhone's touchscreen to enable the player to aim, apply spin to the cue ball, and shoot. The control system is perfect for fans of the genre ...
There's a lot more to be said about Celeris' Virtual Pool Mobile port, but you don't need anyone telling you how good of a game it is. Just download VPM onto your device and see for yourself. Start with the Lite version and work your way up not only to the most powerful opponent, but to all the VPM players out there in Virtual Pool Online
"

Click to read article
SmartPhone & Pocket PC Magazine Finalist
Virtual Pool Mobile
was chosen as a finalist in the
SmartPhone Mag 2008 Best Software Awards.

Click to view standings under the "Sports Game" category.
PocketNow Review
" Virtual Pool Mobile
is so fun to play that it is sometimes hard to remember that it is more than just a pool game...it's a pool simulator. What's the difference? The shots you take in Virtual Pool Mobile take realistic paths. The game physics are true to life.
"

Click to read article
All About Symbian Review
"
The [
Virtual Pool Mobile
] physics are incredible, as you'd expect from a game that's been perfected over years on other PDA platforms. You'll be playing exactly the same shots in Virtual Pool Mobile as you would on a real table, with the balls responding in the same way. Apply backspin or topspin and watch the way the cue ball moves, this is impressive stuff.
"

Click to read Article
Smart Phone & Pocket PC Magazine, Awards List
2004 Winner
2005 Finalist
2005 Finalist(Smartphone)
2006 Finalist
2006 Winner(Smartphone)
2007 Winner
2007 Finalist(Smartphone)
2008 Finalist
2008 Finalist(Smartphone)